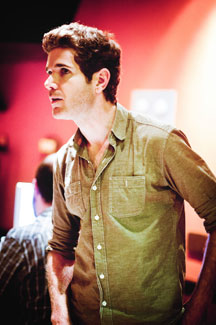 Ben Wendel Producer of Radio Songs by Darryl Holter
17 May 2014
Darryl Holter's forthcoming new album is called Radio Songs. The album features songs written by Woody Guthrie when Guthrie hosted a daily radio show on KFVD in Los Angeles from 1937 to 1939.
Darryl Holter:
One big reason why I enjoy recording is that I get to hear how my songs can grow and expand when great musicians bring their skills to the fore. We put together a superb crew for the upcoming "Radio Songs" album.
It starts with my remarkable producer, Ben Wendel, the twice Grammy-nominated saxophone artist, composer, and more recently conductor who was described by LA Weekly as "perhaps the best and most well-known saxophonist consistently active on both coasts". Ben was with me when we did our first album in 2008. When Ben is in LA, and not touring worldwide with artists such as Tigran Hamasyan, Snoop Dogg, or Prince, he helps me smooth out the arrangements to my songs. We talk about the feel of the song, and consider what instrumentation might work best. When it's time to record, Ben lines up the best musicians we can find, juggles everyone's schedule, manages the sessions, and makes sure all the musicians get paid.