Julia is in the UK to lead performances of the score she composed for the incredible 1928 silent film, The Passion of Joan of Arc. Her original score was performed in Los Angeles in 2017 and was scheduled to be performed at the Huddersfeld Contemporary Festival in 2020 until Covid struck and the event was cancelled for two years. Attached are reviews from The Times of London and The Guardian.
This is not Julia's first time with film work. She organized the music Bleed for This (2016), a film based on a true story starring Miles Teller as Vinny "The Pazmanian Devil" Pazienza, a local Providence boxer, who shoots to stardom after winning two world title fights, suffers a broken neck after a near-fatal car accident, yet returns to the ring just a year after the accident for what could be the last fight of his life.
Julia also did the music for the critically acclaimed Never Rarely Sometimes Always (2020). Faced with an unintended pregnancy and a lack of local support, Autumn and her cousin, Skylar, travel across state lines to New York City on a fraught journey of friendship, bravery and compassion. This film received great reviews and won the New York Film Critics Circle Award for Best Actress but died as the pandemic swept across the entertainment world.
Julia also did the music for In My Own Time: A Portrait of Karen Dalton (2020), which explored the life of blues and folk singer Karen Dalton, a prominent figure in the 1960s New York music scene. Idolized by Bob Dylan and Nick Cave, Karen discarded the traditional trappings of success and led an unconventional life until her early death.
---
Julia Holter: The Passion of Joan of Arc review – Strikingly contemporary, piercingly loud live score
The Guardian
By Dave Simpson | The Guardian | Nov 24, 2022
Town Hall, Huddersfield
The mercurial composer's brilliant score perfectly captures the raging agony and beatific ecstasy of Carl Theodor Dreyer's silent movie masterpiece
Julia Holter's mercurial career has taken her from traditional pop to chamber music, indie to electronica, the avant grade underground to the Top 20 and recently to film scores. Here, the Los Angeles-based composer has teamed up with the 36-strong Chorus of Opera North for the world premiere of her new live score for Carl Theodor Dreyer's 1928 silent movie masterpiece, The Passion of Joan of Arc. Holter initially performed a live soundtrack to the film in LA in 2017. This Huddersfield Contemporary Music festival performance was delayed for two years by the pandemic, but Holter kept writing, completing most of this finished score this year.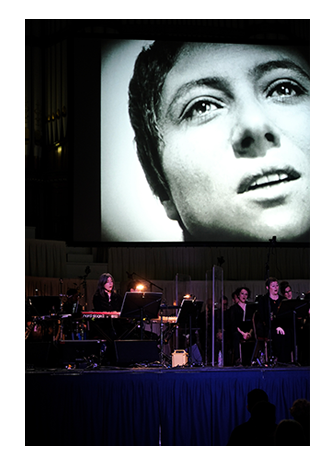 The newly restored subtitled black and white film – telling the story of the French saint's religious persecution and execution with a script derived from minutes of her 1431 trial – is shown above the stage. Holter, behind a keyboard, sits with the chorus and musicians. A sense that anything could happen is reinforced by the provision of earplugs, and signs reading "This performance will be loud". It begins with a hush, as a mournful trumpet is gently augmented by a percussionist to create a funeral, death-march effect.
The film hinges on lingering closeups of actor Renée Jeanne Falconetti, who gives what the influential New Yorker critic Pauline Kael once said "may be the finest performance ever recorded on film". Falconetti's mesmerising array of facial expressions morph from outrage to defiance to tearful sorrow to terror as Joan faces her inquisitors and ultimately her fate. The score's brilliance is in the way it clings to that face like a shadow: becalmed, even beautifully beatific, then raging in intensity. Joan's slow walk to the trial in manacles is soundtracked by an eerie reverie of voices. A timpani rumbles like thunder as the voices around her rise in intensity.
It's striking how much the film and events of 1431 speak to current issues. One of Joan's trumped-up "crimes" is to wear men's clothing. "When the mission of God is finished I will wear women's clothes again," she cries. The misogyny is exposed as cackling male judges relish rounding on a 19-year-old young woman, the foreboding music somewhere between Carl Orff's Carmina Burana and Jerry Goldsmith's Ave Satani from The Omen. There are some wonderful individual moments. The tenors sound straight out of a medieval abbey, the chorus subtly shift from male to female voices, percussion tinkles ominously as Joan faces the torture chamber and a bell tolls as her fate is sealed. Finally, the reason for those earplugs becomes apparent. As Joan is burned at the stake, flames flicker around her to a crescendo of sound led by a piercing bagpipe. Somehow, there is beauty in the music just as there is ecstasy in Joan's agony; Falconetti's face captures the moment that death brings release and martyrdom. This is a powerfully spellbinding union of image and sound.
---
The Passion of Joan of Arc review — A Musical Triumph to Accompany A Cinematic Masterpiece
The Times UK
By Geoff Brown | The Times UK | Nov 24, 2022
Since the original version of Carl Dreyer's astounding silent film was discovered in a janitor's closet in a psychiatric hospital in 1981, composers and musicians have been drawn to it like bears to honey, eager to create an accompaniment worthy of this 1928 milestone's extraordinary parade of images. The number of specially created instrumental and vocal scores must now be well over 30, and Julia Holter's creation — premiered at the Huddersfield Contemporary Music Festival and built on the bones of an earlier version heard in Los Angeles — is definitely the best of the four that have come my way.