Join historian Darryl Holter for a discussion of the early days of the automotive industry.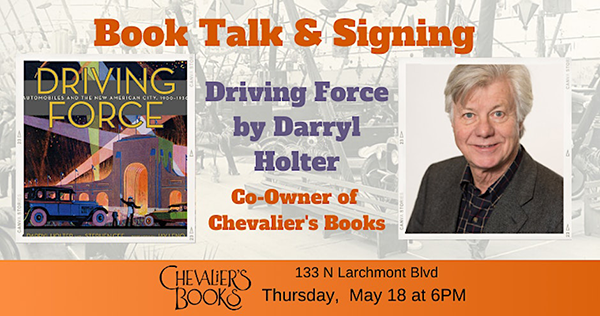 Most of my friends who are familiar with my music also know that, for the last quarter of a century, my work as a historian and an automobile dealer have been intertwined. I began research on this book in 1917 when I came across the records of the Motor Car Dealers Association of Los Angeles from 1905 to 1920 and the reports of the annual Los Angeles Auto Show from 1907 into the 1930s. This led to the research that culminated in the creation of Driving Force: Automobiles and the New American City, 1900-1930, the first historical analysis of how automobiles were merchandized and sold in the first three decades of the car industry. Unlike most academic books, this one is beautifully designed with an incredible cover and more than 150 really arresting photos. It is made to rest on coffee tables and desks. The book is being launched nationally this month. If you would like to purchase a copy, I suggest you avoid Amazon and log onto Chevalier's Books, the oldest store in Los Angeles. Full disclosure: I am a co-owner who helped save the store from closure eight years ago. I hope you enjoy Driving Force.
– DH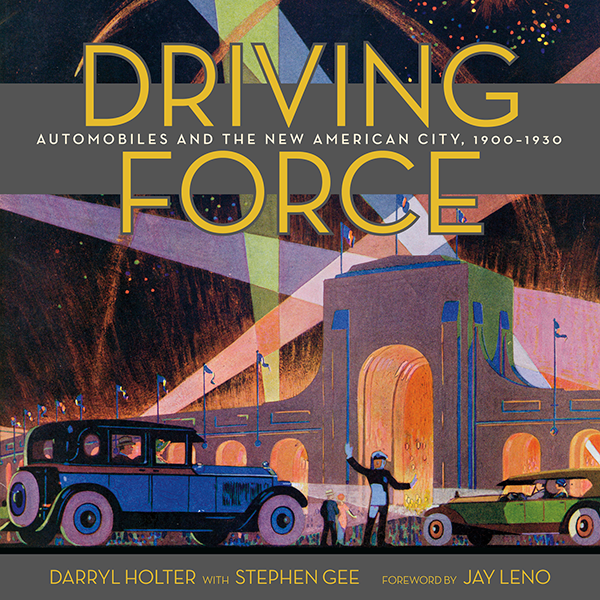 ABOUT THE BOOK
Los Angeles's enigmatic car culture has shaped the nation's preferences in automobiles. Driving Force: Automobiles and the New American City 1900-1930 explores the explosive growth of L.A.'s passion for cars, ignited by an unlikely and visionary mix of entrepreneurs. Car dealers made the big difference, as they ventured into unknown territory. Car dealers were early adopters who broadened the market and convinced the public that cars were not just a luxury, they were a modern necessity. Driving Force is the first major history of dealers at work, artfully told by Darryl Holter, the Dealer Principal of L.A.'s legendary Felix Chevrolet and an Adjunct Professor of History at USC.
The book, "Driving Force: Automobiles and the New American City, 1900-1930," is packed full of local history gems. Sprinkled with vintage photos and original cartoons, the book enlightens readers about the role Los Angeles' early auto retailers played in the growth of the car industry and the city.
Through the text and the book's many vintage photographs, readers will become privy to the untold story of individuals who chose to take a chance on a new invention and industry that ended up changing American cities completely.
Reserve a Spot
Join historian Darryl Holter for a discussion of the early days of the automotive industry.
Thursday, May 18 · 6pm
Chevalier's Books
133 North Larchmont Boulevard Los Angeles, CA 90004
General Admission / Free