Woody Guthrie L.A. 1937 to 1941
by Darryl Holter and William Deverell
Woody Guthrie L.A.: 1937 to 1941, edited by historians Darryl Holter and William Deverell, argues that the famed folk singer's brief residence in Los Angeles in the later years of the Great Depression forever changed his music, his politics, and his legacy. Those changes became the basis of his incredible influence on the world's music.
Bob Dylan said of Guthrie "The songs themselves, his repertoire, were really beyond category. They had the infinite sweep of humanity in them. . . . Woody Guthrie tore everything in his path to pieces. To me [his music] was an epiphany." Guthrie became a role model for Bruce Springsteen, who has extolled Guthrie's "fatalism tempered by practical idealism" and his conviction that "speaking truth to power was not futile." Guthrie taught today's musical legends to cry out and be heard—his impact makes him more than a legend. He is musical history.
Woody Guthrie L.A.: 1937 to 1941 began by way of a 2012 conference and concert celebrating the centennial of Woodrow Wilson Guthrie's birth. Put on by the University of Southern California in close cooperation with the GRAMMY Museum, the conference featured academic papers exploring Guthrie's time in L.A. and concluded with a concert which featured musicians, and Guthrie fans, including Steven Stills, Jackson Browne, Noel Paul Stookey (of Peter, Paul, and Mary), and Tom Morello (of Rage Against the Machine).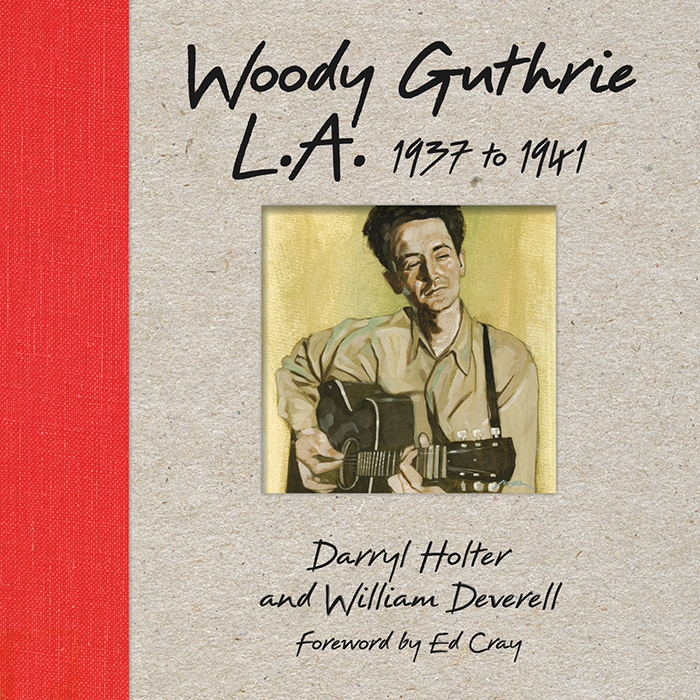 The book is the product of many years' work and close cooperation with members of Woody Guthrie's family and estate. Lyrics Guthrie wrote about Los Angeles, many of which he never set to music, are published here for the first time. The book also features more than a dozen of Guthrie's brilliant cartoons—his quickly drawn satires on politics, the wealthy, and the future of Los Angeles.
The book's twelve essays, richly illustrated by photographs from the era, explore such themes as Guthrie's early radio success in Los Angeles with the Woody and Lefty Lou Show, his first recordings made on old Presto disks, and the important friendship he forged with the actor and leftist radical Will Geer (later of "Grandpa Walton" fame). Other pieces cover Guthrie's racial egalitarianism, as he threw off the worst of his Oklahoma and Texas roots and pushed past a notorious lynching in which his father may have participated, his ability to mold evangelical perspectives into politically savvy folk songs, and the impact he still exerts in his songs about migrants and workers looking for the main chance in California.
Because Woody Guthrie came to Los Angeles when he did, his music stridently addresses inequities and inequalities amplified by the Depression. In Los Angeles, the ever-observant Dust Bowl troubadour became the urban folksinger. His time in L.A. created the Woody that—eighty years later—bears witness to America's promise and its problems.
2016 Foreword INDIES Winner | Performing Arts & Music (Adult Nonfiction)
LOS ANGELES (June 26, 2017) Angel City Press announces that Woody Guthrie L.A. 1937 to 1941 by Darryl Holter and William Deverell has earned a gold medal in the category of Performing Arts and Music (Adult Nonfiction) in the 19th annual Foreword Reviews Book of the Year Awards.
The announcement was made during the American Library Association's Annual Conference in Chicago June 24. The awards recognize the best books published in 2016 from small, independent, and university presses. (Read more about the 2016 Foreword Book of the Year Awards)