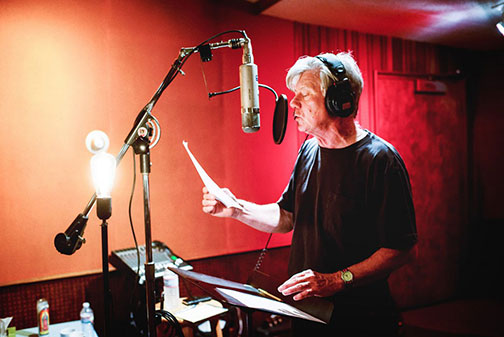 Darryl Holter's Radio Songs on the Charts & Berkley Music B-Side Interview



Darryl Holter, Radio Songs,| Roots Report Chart Results for the Week of Aug 20, 2015:
Top 50 Alternative Folk Song Chart:
Darryl Holter | Talking Dust Bowl Blues | Number 1
Darryl Holter | Big City Ways | Number 2
Top 50 California Album Chart:
Darryl Holter | Album: Radio Songs | Number 5
Top 50 Alternative Folk Album Chart:
Darryl Holter | Album: Radio Songs | Number 5
About Roots Music Report: It's About the Music
Roots Music Report is the number one independent music chart in the world. They compile radio airplay data from radio stations around the globe that play all forms of roots music, so that each week you can see which independent artists are being played the most & by what stations are playing them. http://www.rootsmusicreport.com
Berkley Music B-Side | Radio Songs Interview with Darryl Holter
The legend that is now Woody Guthrie was then, in the late 1930s, in his twenties. When the depression hit, the Oklahoma native headed west. He landed in California, on a specialty show with musical counterpart "Lefty Lou" at Los Angeles radio station KFVD. It was also about this time that the New Deal first extended governmental funding to arts and culture across the nation.
The two-year stint serves as the foundation of musician, historian, and activist Darryl Holter's recent Radio Songs: Woody Guthrie in Los Angeles 1937–1939, out last month via 213 Music. Radio Songs features ten renditions of original Guthrie material as collected, curated, and performed by Holter. A sort of aural history text, Ben Wendel's production and Holter's arrangements are clean and concise; as a glimpse into Guthrie's beginnings as a musician, Radio Songs is fascinating if its listener finds intrigue in the subject.
Holter is joined by two Lous on the record: Ani DiFranco and Sara Watkins, and his daughter Julia Holter (known for her experimental pop music) provides the melody to an early Guthrie poem.
Below, Darryl takes the time to break down the process of Radio Songs for us.
What about that period of Guthrie's life interested you enough to dedicate an entire album and book to it?
Most of us know Guthrie as the guy who rode the rails in the Depression Years, the radical songster who had plastered a sign on his guitar that said "This Machine Kills Fascists," the author of "This Land is Your Land," a leader of the folk revival of the 1950s and 60s and the model for Bob Dylan and countless other singer-songwriters in the '60s. But, I wanted to go back earlier to see how Guthrie got to be that person and how and why he created that unique persona of the political Okie. I found it in the years he spent in Los Angeles when he evolved from an amateur, Dust-Bowl singer with populist sympathies to a professional musician and writer with a daily radio show and a radical political outlook. When we think of the Urban Folk Revival we think of Greenwich Village in the 1950s, I found the origins when Guthrie brought folk music to urban intellectuals and political activists in Los Angeles in the 1930s.
How many years of research are we looking at? What's next for you, now that this project is complete?
I started this project in 2008 with a fellowship from the Woody Guthrie Archives and BMI music. A book, Woody Guthrie in Los Angeles, which is edited by myself and William Deverell, will be published toward the end of the year by Angel City Press. It will feature about 20 articles by scholars that add to our understanding of Guthrie's influence on Los Angeles, and LA's influence on Guthrie.
I have about 20 new songs I have written since my last album, Crooked Hearts (2012). I'll draw upon them for a new album, tentatively called Roots and Branches.
The album and book are companions to one another, I'm sure, but did either come together faster or more easily than the other? How so? [How did you choose these ten tracks from two years' worth of material?]
It took some time to decide which songs to use. Guthrie wrote more than 100 songs for his radio show, although many were never recorded and there are no recordings of the radio shows. However, the earliest recordings ever made by Guthrie, until recently unknown, were uncovered in Los Angeles and we used one of them on the album, "Big City Ways." Guthrie didn't read music and generally used traditional melodies. When he ran out of songs to sing on the radio show he began to write new lyrics for old melodies. He liked the idea that listeners already knew the melodies and he tended to just go verse after verse. I saw no reason to adhere to Guthrie's arrangements and I made changes that I thought made the songs more accessible. I sometimes took verses and made them into bridges to make the melody more interesting. Ben and I experimented with difference tempos and instruments. Then we brought in Sara, Ani and Julia to add a female vocal component that conformed to the radio show, which was called "Woody and Lefty Lou" and featured Maxine Crissman on vocals. All this took a lot of time.
The book is based largely on scholarly presentations made at several conferences around the country to commemorate the 100-year anniversary of Guthrie's birth in 1912.  Rounding up academics is a bit like herding cats so that took time, but the book it almost ready to go.
My Flowers Grow Green by Woody Guthrie
Performed by Darryl Holter featuring Julia Holter
From the New Darryl Holter album "Radio Songs by Woody Guthrie"

Would you care to elaborate on the personal connections between Guthrie and yourself as well as Guthrie and Ben Wendel before this project? How have these changed?
Well, I've been playing Woody Guthrie songs since I was in college and I always thought I "knew" him pretty well, but the research on the LA period opened my eyes to his actual development, as I mentioned above. And I know that Ben knows a hell of a lot more about Guthrie after working with me for so long on this project.
Instead of featuring a single Lefty Lou, Radio Song borrows three. In particular, Julia was an interesting choice as primarily a pop singer what made her suited for "My Flowers Grow Green?"
At the beginning we decided to use more than one voice for the female vocalists and all three are distinctly different. We felt that Sara's voice was perfect for that dreamy, elongated version of "California Stars."  And Ani did a great job on "Looking For That New Deal Now" which I transformed from a folk song to a much rougher blues number. "My Flowers Grow Green" was a poem that Guthrie never recorded (a version was recorded by Joanna Brooke) so I created my own melody. The poem was written with a female narrator so I wanted to leave it with Julia. Of course Julia has heard my songs for years and grew up with them, but certainly she has created her own totally unique music (I still have a hard time describing it–it's so different). Julia listened to my melody and suggested an alternative ending which greatly improved the song.
Purchase & listen today!
Bandcamp: Radio Songs on Bandcamp
Spotify: Radio Songs on Spotify
Is there any modern instrumentation on the album, or did you try to keep it as historical as possible?
Well we used most of the musicians and instrumentation we have used on my previous albums. And we took to songs out to the street as Guthrie did and you can see that in the DVD.
Are there recordings of Guthrie's radio show available to the public?
None were ever made.
This probably came up in your research: Guthrie was lucky enough to have a radio spot for two years, but what was the reality for most musicians during the Great Depression?
It was very, very hard for everyone. When the show was at its height Guthrie made $20 per week, which was a lot of money in those days.
Article by Joanna Jiang