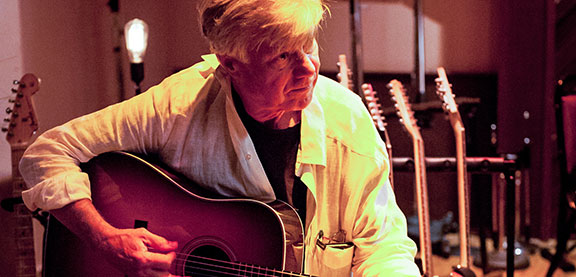 Power of the People, Pasadena Weekly
Power of the People | Pasadena Weekly
Singer-songwriter Darryl Holter and fellow historian William Deverell discuss their new book 'Woody Guthrie L.A. 1937 to 1941' and Holter performs at Grammy Museum Tuesday
Article by By Bliss Bowen Pasadena Weekly
27 Feb 2016
Woody Guthrie's been dead since 1967. Yet his legend still looms so large that many musicians continue to incorporate Guthrie tunes into their repertoire. (Case in point: Lucinda Williams' haunting setting of Guthrie's "House of Earth" on her new album "The Ghosts of Highway 20.")
In January, Angel City Press published "Woody Guthrie L.A. 1937 to 1941," a handsomely designed book exploring the "This Land is Your Land" composer's LA years. Reproductions of Guthrie cartoons and previously unpublished lyrics accompany newspaper clippings, and photographs of Guthrie and Depression-era Hooverville camps. Co-edited by historians Darryl Holter and William Deverell, 12 amply footnoted essays contend that Guthrie, who arrived in LA a populist "Dust Bowl Democrat," would not have become a pivotal influence on the likes of Bruce Springsteen, Tom Morello and Steve Earle if not for his experiences here.
"We have an image of Guthrie as the guy who rode the rails during the Great Depression out of the Dust Bowl, the guy who had slogans on his guitar like 'This Machine Kills Fascists,' the unrepentant radical, the person who was a model for Bob Dylan," Holter observes in thoughtfully measured tones. "Guthrie's musical development and political evolution took place during these years in LA from 1937 to 1941. Guthrie moved from being a guy who played songs on the street corner, and maybe in bars for tips now and then, to someone who had a radio show that they hosted in the morning and in the evening, five days a week; someone who began to write all of his own songs [and] developed more skills playing guitar."
In the book, Holter analyzes songs such as "Do Re Mi," "Fifth St. Blues," "I'm Goin' Back to the Farm" and "I Ain't Got No Home" to illustrate how Guthrie's views regarding politics, religion and music evolved in LA. Chapters chronicle encounters with characters such as actor Will Geer, author John Steinbeck and radio partner Maxine "Lefty Lou" Crissman, and connect Guthrie to modern-day Mexican corridos.
Holter, a singer-songwriter and USC adjunct professor of history, credits Guthrie's "ability to write about things that are so relevant" for his enduring popularity with younger generations.
"He was writing about things that people were talking about … unemployment, homelessness, police harassment, flooding and what happens to homeless people. Traffic in downtown LA. They're talking about love. They're sometimes talking about sex. His songs were talking about the same things that we talk about today."
Last year Holter released "Radio Songs," comprised of material written while Guthrie hosted his KFVD show. The album features appearances by daughter Julia Holter, Sara Watkins and Ani DiFranco, and includes his setting of Guthrie's "New Years Flood." He'll likely perform it at the Grammy Museum Tuesday.
"I really like how that song talked about how these folks came here to LA and settled along the river because they had to have a place to live and lived in little tents and shanties and got swept away by the LA flood. It gets into how the LA River was put in a concrete prison. It's a story people know little about, but it's interesting."