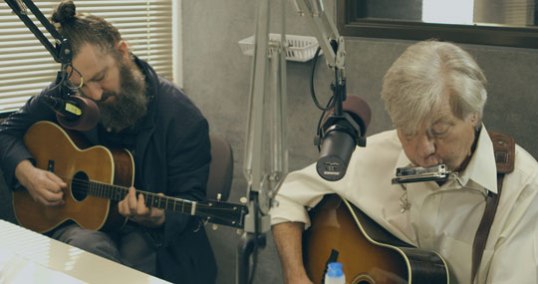 Darryl Holter's forthcoming new album is called Radio Songs. The new album is produced by Ben Wendel and features some great musicians such as Tim Young, Billy Mohler. Greg Leisz and Dave Kemper. The album will also feature many special guests. This is part of a series of blogs with some info about the musicians on 'Radio Songs'
Darryl Holter talks about Tim Young: Guitar
I have probably performed more with Tim Young than any of the other guys in the band—at a Nissan dealership, on the street corner of Fourth and Main (Woody Guthrie Square), at a radio studio, at Capitol Records and Sunset Studios. Tim is a "guitarist's guitarist" who has performed and recorded with a large cast of artists across a remarkably broad swath of musical styles–Beck, Bill Frisell, Rufus Wainwright, and Fiona Apple. I like to play with Tim because he can take his guitar to places I could never go alone.
The album features songs written by Woody Guthrie when Guthrie hosted a daily radio show on KFVD in Los Angeles from 1937 to 1939.