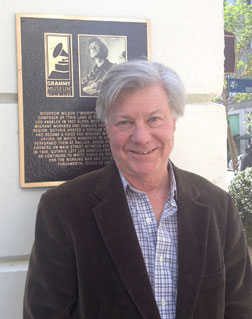 Darryl Holter Receives Woody Guthrie Award
Darryl Holter was honored as a recipient of a new Woody Guthrie Award from the Coalition of Mental Health Professionals in Los Angeles on Sunday, June 30, 2013.
The organization provides vital mental health and wellness services to the communities of South Los Angeles. "You don't need to be among the richest people in the world to share the fruits of your labor with other who may need a helping hand," said Sandra Cox, CMHP Director. "Darryl Holter's contributions have been significant, including having 4th and Main Streets designated as 'Woody Guthrie Square' , for his business acumen, and his talents as a singer-songwriter," she added.
At the event, which took place at USC's Town and Gown, Darryl Holter performed two songs. The first song, Bob Dylan's "Only a Pawn in the Game", commemorated the 50-year anniversary of the assassination of early Civil Rights leader, Medgar Evers. "Dylan connected the death of Medgar Evers with a biting commentary on the social structure and racial attitudes of the times," said Darryl in an introduction to the song. He also performed "Feeling Might Small (in a Big Town)" a song about Woody Guthrie's first day in Los Angeles in 1937 which will appear on a forthcoming album.
The event was billed as the "10th Annual Extraordinary Sunday Afternoon". Other CMHP honorees included Susan Acosta, Agnes Moreland Jackson, Charles Dickson, and Kenneth Phillips.