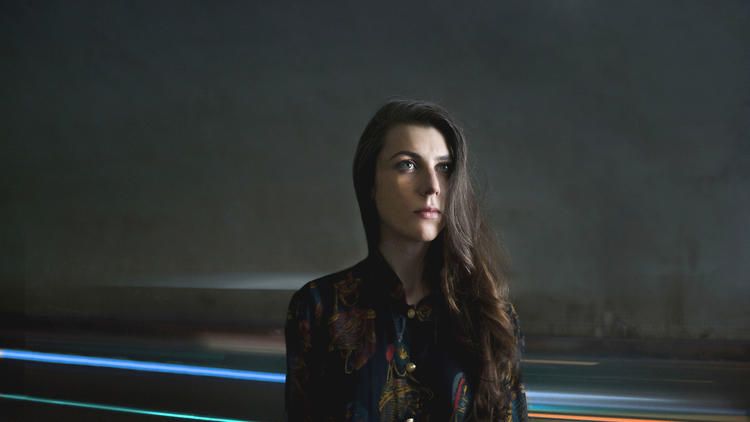 Julia Holter Premieres New Film Soundtrack, LA Times Review
by Randall Roberts, LA Times Nov 10 2016
Over the last five years the Los Angeles composer and avant-pop singer Julia Holter has moved from issuing vinyl-only compositions based on ancient Greek plays and musique concrete-inspired mixtapes to becoming an interdisciplinary force composing concept albums and music for dance, performance pieces and parties.
For her next act, the young artist has scored the music for the new boxing film, "Bleed for This," the true story of pugilist Vinny "The Pazmanian Devil" Pazienza. Holter's hardly an obvious choice for such a project; her music is often delicate and seldom bombastic.
The soundtrack comes out Friday and features half a dozen Holter-composed miniatures to go with licensed tracks including Billy Squier's "Emotions in Motion," George Michael's "Monkey" and a few tracks from Chicago songwriter Willis Earl Beal. Holter adapted one Beal's songs, "Not Gonna Fight Again," for the film.
Other Holter pieces in the score are little more than melodic cues, but she packs a lot of information into tiny spaces. The grandest of them is the film's coda. Called "Vinny's Triumph," the track blends synths, strings and, to close, a grand saxophone solo. The Times is premiering the track:
[soundcloud url="https://api.soundcloud.com/tracks/287082707″ params="auto_play=false&hide_related=false&show_comments=true&show_user=true&show_reposts=false&visual=true" width="100%" height="450″ iframe="true" /]
Julia Holter, "Vinny's Triumph," from the soundtrack to "Bleed for This" (Milan).
See Full Review at LA Times Here.
Visit Julia Holter Here: www.juliashammasholter.com