From 30 Rock to Capitol Hill: On "Al Franken, Giant of the Senate"
Book Review by Darryl Holter
Darryl Holter | Los Angeles Review of Books
I NEVER READ BOOKS written by politicians. No, let me take that back. I read Profiles in Courage by John F. Kennedy in junior high. And in 1987 I met with Illinois Senator Paul Simon, an early candidate for the 1988 presidential race, and he gave me a very readable yet wonky little book called Let's Put America Back to Work, chock-full of good ideas that, like Simon's campaign, never saw the light of day. I don't remember how many Republicans vied for the 2016 nomination (16?), but I'm sure each one of them wrote, or hired someone to write, a book about themselves, with predictable narratives. They all overcame early obstacles and family tragedies that would have stymied others and had somehow climbed to the verge of the presidency. I read none of them but, to be fair, I also neglected to read books by the Clintons. But I decided to read Al Franken's new book, not because he is arguably the funniest senator around, or because his book remains on The New York Times best seller list, or because we grew up in the same neighborhood on the southwest edge of Minneapolis, Minnesota. No, I read it in search of an answer to a question that had eluded me for nearly a decade.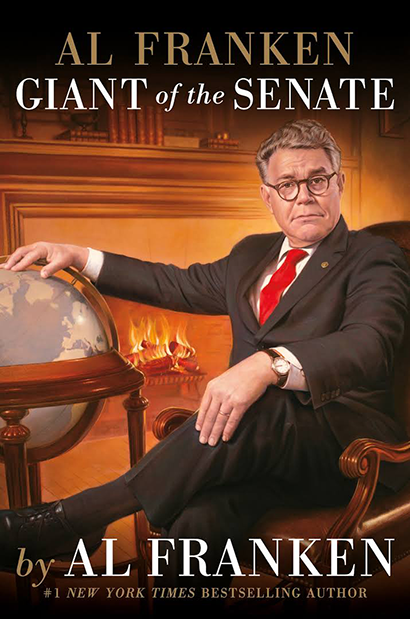 The narrative is simple enough: Franken's happy childhood in a barely middle-class Jewish family; his switch from public school to a private day school for wealthy families; his early love of comedy, which blossomed in high school in tandem with that of a fellow student, Tom Davis (who would later join him on the writing staff of Saturday Night Live); his going off to Harvard and meeting his wife Franni at a freshman mixer; his being recruited by Lorne Michaels to join the initial SNL team; his writing six books; and, finally, his running an uphill campaign against an incumbent Republican senator and winning, after a lengthy recount and a ruling by the Minnesota Supreme Court, by a mere 312 votes in 2008. On the face of it, this is a typical "onward and upward" story, but Franken delivers it with his irrepressible, self-deprecating Minnesota brand of ironic humor, spicing it up by skewering people like Ted Cruz and Rush Limbaugh with their own statements, laying out the absurdity of much of today's conservative agenda, and projecting a common-sense, progressive approach to politics and policy.
As someone who has seen most if not all SNL shows, in real time or in reruns, I enjoyed the inside information about the "Not Ready for Prime Time Players" — Gilda Radner, Chevy Chase, Garrett Morris, Dan Aykroyd, Jane Curtin, John Belushi, and all the others. Franken tells how it all worked, and presumably works to this day. During the week the writers pushed their ideas to the group. The actors pushed back with their own ideas and their own self-created characters, setting up a competitive, chaotic environment of clashing egos, often enhanced by prohibited substances. "During SNL's life span," writes Franken, the show has been at its best when there's been an equilibrium between the writing staff and the cast. When the cast dominates, we see popular recurring characters beaten into the ground. When the writers dominate, there's a lot of interesting stuff that the audience doesn't find all that interesting or all that funny.
Only a fraction of the material made it to the end of the week, and even less survived the final cut, which, amazingly, was made by Michaels only an hour or so before the curtain opened at 30 Rock. I guess I was surprised that SNL was as "live" as it was. "Putting on a live ninety-minute comedy show week after week can be thrilling, and it can be painfully stressful," writes Franken. "And of course, we were all of a very tender age. People had sex and fell in love. But mostly had sex. I personally had 227 sexual encounters during my fifteen years at SNL. All of them with Franni."
In 1992, Franken anchored a series of TV specials on Comedy Central covering the Democratic and Republican conventions. Unlike the broadcast network coverage, which devoted only two hours a night, Indecision '92 offered four hours of coverage and featured a wide variety of guests, including Christopher Hitchens, Molly Ivins, Norm Ornstein, Calvin Trillin, and Roger Ailes ("Yes, Roger Ailes, who actually was very funny and who, as far as I know, did not sexually molest anyone during the two hours he was with us"). Indecision '92 called the election for Bill Clinton several hours before the networks did.
While Franken's political commentary offered a potentially new direction for his comedic talents, and he was chosen to headline the White House Correspondents' Association Dinner in 1994, his politics ("my bleeding liberal heart on my sleeve") prevented him from getting the SNL job he most wanted: anchoring the "Weekend Update" segment. After 15 years as a writer and creator of characters like Stuart Smalley, Franken left the show and wrote his second book, Rush Limbaugh Is a Big Fat Idiot: and Other Observations, which quickly advanced to number one on The New York Times list. Franken picked up his books and his jokes and joined the lecture circuit. This benefited him financially, but he had been bitten by the political bug and began endorsing candidates and getting more involved in electoral contests. The tragic death of his friend, Minnesota Senator Paul Wellstone, who perished along with this wife and daughter in a plane crash a few weeks before his reelection in 2002, led Franken to consider running as a candidate himself. With his wife Franni and his two children, Franken moved back to Minnesota and set up a political action committee to help other Democrats in the off-year elections of 2006. After a year or more of asking donors for money, eating rubbery chicken, attending bean feeds, and learning about turkeys and farming and Native American pow-wows, Franken was ready to take on Norm Coleman, the Republican who had captured the Senate seat after Wellstone's death.
The transition from comedian-lecturer to politician was not without its problems. First, candidate Franken had to learn to "pivot," which means "not answer questions." When a reporter asks, "You trail Norm Coleman by twenty points. How can you get DFLers to support you for the endorsement if you're so far behind?" Franken's natural instinct would be to try to answer the question. Wrong! The correct answer is: "When I go around our state, Minnesotans don't talk about polls. They talk about their kids' education, and how they're worried that they'll go bankrupt if someone in their family gets sick." Perhaps the biggest and earliest challenge for Franken was to find a way to curtail his comedic skills, so that Minnesota's generally straight-laced voters could begin to take him seriously… Review Continued at at LARB Book Review by Darryl Holter
¤
Book review by Darryl Holter:
Darryl Holter is a historian, entrepreneur, musician, and owner of an independent bookstore. He has taught history at the University of Wisconsin and UCLA and is an adjunct professor at USC.
Read Article at LARB