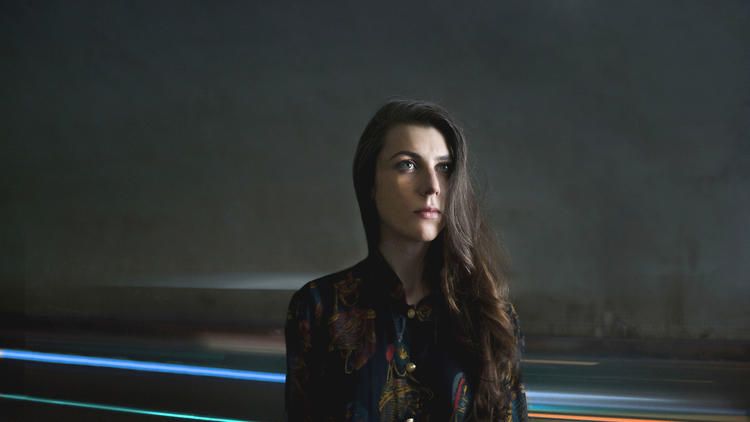 When I opened the Los Angeles Times on Sunday morning I was pleasantly surprised to see this review of the first track of Julia's new album, "Aviary", which will be released in a few weeks. I think Randall really nails it when he describes how the song begins, grows in intensity and finally bursts like "a Roman candle." I noticed that for her title, "I Shall Love 2" Julia uses the word "shall" rather than "will" or "may" or "can". This indicates the depth and strength of her commitment to love. In legal terms, the word "shall" is mandatory–she MUST love. She has no other choice. She has decided and there is no alternative. Interestingly, she asks whether or not the angels "shall love" the way she does.
Julia's music continues to evolve. I remember giving her a kid's tape cassette player at Christmas when she was two. She opened it and started playing the tape–"Old McDonald's Farm" I think. She refused to open any more presents and continued playing the music. And she has never stopped. I am so proud of her.
– DH
Julia Holter Los Angeles Times Record Review
by Randall Roberts  | September 2018


New song parallels its creator's evolution

Julia Holter, "I Shall Love 2" (Domino). The breathtaking first song from Holter's forthcoming album, "Aviary" (Oct. 26), opens with vague recitation. "That is all, that is all. There is nothing else," she says, minus accompaniment. A trebled rhythm commences. The hum of an organ guides from below. "I am in love/What can I do," she wonders as a melody arrives, one that carries across the song at regular intervals like a neighborhood mockingbird.
Holter has been advancing toward this moment for a decade. The structure of "I Shall Love 2" runs parallel to her artistic evolution in that it opens modestly, gains graceful, well-paced momentum and then, through precisely composed measures and changes, erupts like a Roman candle.
"What do you squander? What do you hold," she wonders midway through as the song crosses a kind of threshold. The drummer punches a series of snare rolls, an acoustic bass adds bursts of jazz-suggestive runs, and Holter urgently sings, "In all the humans there is something true" before asking a question: "But do the angels say, do the angels say … I shall love?" She repeats those final three words for the next few minutes, a choir of voices rising as grand orchestration creates volume and din: "I shall love, I shall love, I shall love."
---
Aviary | Julia Holter
Aviary, The New Album, Out 26th October
Pre-order Aviary Deluxe LP
Album Info & Tour Dates at juliaholter.com