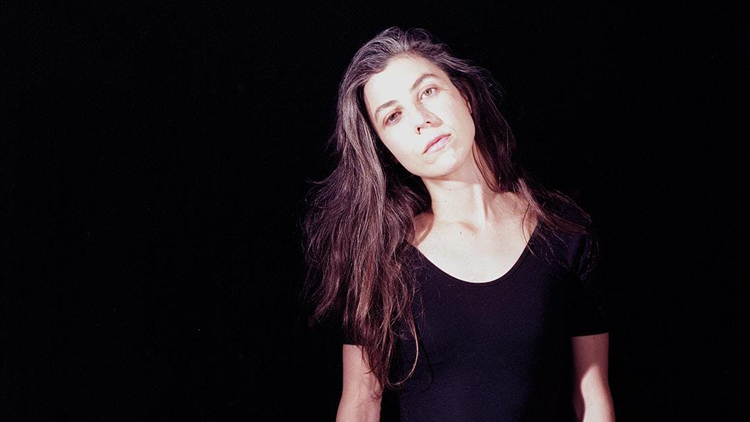 Here is a new video of Julia's song, Les Jeux to You, from her new album, Aviary. She has completed her European and Asian tour and begins her U.S. and Canadian tour soon. She will perform in Los Angeles on March 9th at the Lodge Room Highland Park. – DH
---
Julia Holter Live March 9, 2019 in Los Angeles, CA @ Lodge Room
Lodge Room Highland Park
104 North Avenue 56
Los Angeles, CA 90042
Tickets
---
STEREOGUM
by Connor Duffey  | Feb 12, 2019


Julia Holter – "Les Jeux To You" Video"
Julia Holter has shared a surreal new video for the track "Les Jeux To You," off of last year's album Aviary, her fifth full-length.
The black-and-white clip has excesses of black paint, baby dolls and melodrama. Holter says the song is about "a seeking for compassion and humility in a world where it feels like empathy is always being tested."
The director of the video, Geneva Jacuzzi, stated in a press release that she took inspiration from the 1968 Alejandro Jodorowsky art film Fando Y Lis while crafting the imagery:

After I heard 'Les Jeux to You', images from Fando Y Lis, a film that has always haunted me, flooded my mind and I knew we had to reimagine it. Set in a dystopian future past, the two lovers escape to a mythical city and along the way are confronted with both terrifying figures of the unconscious and joyful memories of the past that accelerate a descent into madness. As a female artist, I felt the need to explore the anima of this myth and reinscribe the imagery as a mode of empowerment of the feminine directorial gaze.
Continued Here: www.stereogum.com
---
Under The Radar
by Christopher Roberts | Oct 26, 2018


Album of the Week: Julia Holter
In naming Aviary, her studio follow-up to 2015's Have You in My Wilderness, Julia Holter took inspiration from a line from a 2009 short story by Lebanese-American poet and essayist Etel Adnan: "I found myself in an aviary full of shrieking birds." It struck Holter as a suitable analogy for the loud lives we lead in 2018, with fresh hells served up daily as each of us struggles to deal: artistically, emotionally, somehow hopefully, with an eye toward some plausible future.
Holter's baroque textures and wildly ambitious musicianship imply this aviary's particulars: wrought-iron, ornate and Victorian, vast and overflowing with untended plant life. It houses—imprisons, displays—all of us, from the most shrill and petulant to the most muted and reserved. There are crows, mediating between life and death; eagles, all thunderstorms and resurrection; flocks of starlings expand and contract, canaries bound ahead into clean-coal mines, and repulsive vultures await their next opportunity. Phylum, family, species. What's the kingdom? Who has the keys? 2018.
Continued Here: Under The Radar
---
Aviary | Julia Holter
Aviary, The New Album, Out Now
Order Aviary Deluxe LP
Album Info & Tour Dates at juliaholter.com