San Francisco's iconic City Lights bookstore on verge of closing
Sad news. Another victim of Coronavirus might be San Francisco's venerable City Lights Bookstore. Like other bookstores in California, including our Chevalier's Books in LA, it has been shuttered since March 16 and may not survive.
I've always loved City Lights and never visit SF without stopping to browse the poetry section or the incredible collection of Beat Generation literature upstairs. I stay at a hotel near Union Square, walk through Chinatown up to City Lights, buy a book or two, walk across Jack Kerouac Alley, enter Vesuvio's Bar, order a glass of Barola, and read for an hour or so. Once when I was at City Lights, Ferlinghetti came in and I said hello to him.
On my last album the song "Walk A Mile" has lyrics that derived straight from my memories of City Lights:
"Big Sur days and Frisco nights
We held onto each other tight
In a cheap hotel by Union Square
Chinatown to City Lights
Vesuvio's Bar past midnight
`You told me you'd follow me almost anywhere"
A campaign to raise $300,000 to save City Lights has developed and I'm going to send a contribution to show our solidarity. Please do the same if you feel the same.
(Contribution Information Below)
– DH
---
San Francisco's iconic City Lights bookstore on verge of closing
Lilit Marcus, CNN • Published 10th April 2020
(CNN) — San Francisco's iconic City Lights bookstore is on the brink of collapse as the coronavirus pandemic is forcing the business to keep its doors shut.
Elaine Katzenberger, who is the Publisher and CEO of City Lights Booksellers & Publishers — both the store and its publishing arm — has started a GoFundMe campaign to raise the $300,000 that is needed to keep the business afloat.
"City Lights is faced with formidable challenges at present: Our bookstore has been closed to the public since March 16, and must remain closed for an indefinite period of time," Katzenberger wrote on April 9.
She added: "Unlike some shops, we're unable even to process online orders, since we want our booksellers to remain safely at home. With no way to generate income, our cash reserves are quickly dwindling, with bills coming due and with a primary commitment to our staff, who we sent home with full pay and healthcare, and who we hope to keep as healthy and financially secure as possible."
City Lights was founded by Lawrence Ferlinghetti, one of the members of the Beat movement, in 1953. The store in the now-fashionable North Beach neighborhood is synonymous with the Beat Generation and was the publisher of Allen Ginsberg's famous poem "Howl."
It still serves as a meeting place for San Francisco's creative community and hosts readings, book signings and other literary events.
Ferlinghetti was named the first-ever poet laureate of the city of San Francisco, and his 100th birthday, March 24, 2019, was decreed Lawrence Ferlinghetti Day in the City By the Bay.
As of April 10, the "Keep City Lights Books Alive" campaign had raised $106,000, more than one-third of its goal.
The bookstore has also asked fans around the world to share their memories of City Lights on social media. City Lights, 261 Columbus Avenue at Broadway, San Francisco, CA 94133
Read the full article here at CNN
---
Keep City Lights Books Alive | GoFundMe
City Lights Books and Elaine Katzenberger are organizing this fundraiser on behalf of Elaine Katzenberger.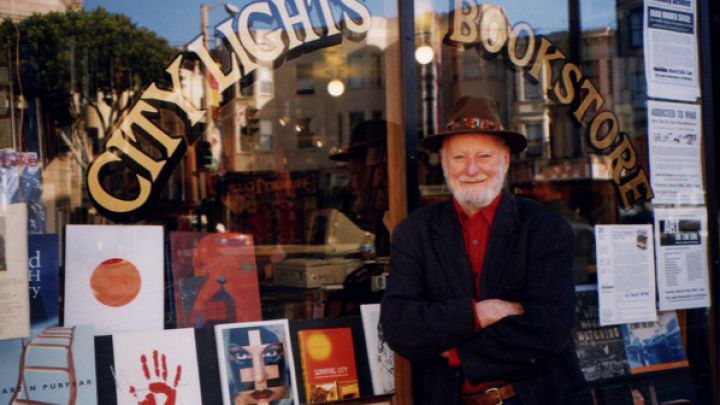 We're exploring every means of possible support, including federal and local grants and loans, but these funds are not guaranteed to come in, and they won't meet the needs of our short-term future. And so, we must humbly ask for your support.
We know what a difficult and uncertain time this is for everyone, and we understand that there are many individuals and organizations in need. If you're in a position to support us we'll be extremely grateful to receive that help, and any donation to this campaign will contribute to the cash resources we need to address the immediate future, to take care of our staff, and to create the structures to take City Lights into the future. And if you could let others know about this campaign, we'll appreciate that immensely, too.