Happy Birthday, Waylon Jennings!
No, not that Waylon Jennings.  I mean my dog and BTW, I didn't name him.
Waylon turned 15 years on January 16th, so we had a little party for him.  I adopted Waylon from a rescue service in 2008.  I've always liked the songs by Waylon Jennings so I liked the dog's name.  Also, I am a bit of a Francophile and Waylon is a French Brittany, the largest of the Spaniel family, a bird dog who loves to retrieve tennis balls.  Unlike American Brittanys, which are brown and white or liver and white, French Brittanys are black and white.  He was purchased as a puppy by a family with the last name of Jennings.  They lived in Nashville, TN and gave him to their daughter, who I think was a graduate student.  Apparently, things didn't work out and the parents took Waylon back and then found a temporary home for him with a family that were breeders of English Setters. The breeders told me that the larger English Setters were not particularly friendly to their new canine companion, perhaps looking down on the French.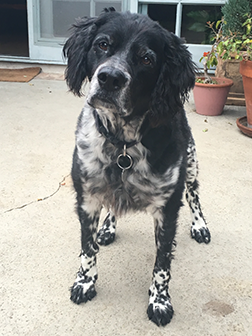 I adopted Waylon through the Brittany Rescue Group. A lady named April came to our house to inspect it and our yard, making sure we had good fencing: "These dogs are escape artists," she said.  They agreed to fly Waylon to L.A. if I paid for it also had him driven to Atlanta so he could fly on Continental, apparently the only carrier to provide air-conditioned cabins for traveling animals.  April picked up Waylon at LAX and brought him to me on Father's Day. He was very thin, seemed quite nervous and had hardly any hair on his chest.  She visited about a week later to make sure that everything was OK.
Waylon had figured out how to use the dog door, the back yard, and where his bed and feeding bowl were located.  He was eating a lot and putting on weight and seemed very content in his comfortable new environment.  He immediately started following me around and finding me wherever I went in the house or back yard.  That continues today.  When I come back from work, Waylon is waiting inside the front door.
Waylon and I are aging together.  When I turned 70 in February, 2017, Waylon turned 10 so in dog years, were the same age.  Now he is older than I. We both had knee surgeries after several years of jogging and walking on city sidewalks. We both take supplements for our aching joints.  His eyesight and hearing is diminished (but his nose is well-tuned) and I have a problem with double-vision and some ringing in my ears.  Waylon spends most of his days dozing and I usually take a 15-minute nap after lunch. We both eat less than we used to.  I cannot absolutely say which of us will leave this earth first, but I do know for certain that the one who doesn't will deeply miss the one who does.