Authors Darryl Holter and Greg Vandy Live Discussion
DJ Greg Vandy, Author of 26 Songs in 30 Days, in Conversation with Woody Guthrie L.A. Biographer Darryl HolterTune into the continuing resonance of Woody Guthrie's 30-day songwriting tear of 1941 with 26 Songs in 30 Days: Woody Guthrie's Columbia River Songs and the Planned Promised Land in the Pacific Northwest.
Join Chevalier's co-owner, musician and all round Guthrie-man Darryl Holter as we dig author and DJ Greg Vandy's treasure trove of musical history on Thursday, June 9th at 7 p.m. Signing to follow.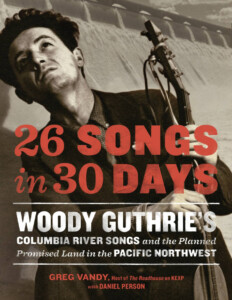 Thursday, June 9th at 7 p.m.
Chevalier's Books
126 N. Larchmont Blvd.
Los Angeles, CA 90004
323-465-1334
Greg Vandy has been the host of The Roadhouse on Seattle's KEXP radio since 2000 where he brings a world of folk, blues, and roots-inspired music to listeners in the Pacific Northwest and around the world.
Darryl Holter is both the co-author of Woody Guthrie L.A.: 1937-1941 and his album Radio Songs: Woody Guthrie in Los Angeles, 1937-1941, was released to critical acclaim in 2015. He is a musician and singer-songwriter, a former labor leader, an urban developer, an adjunct professor of history at USC, and a member of the Professional Musicians Union Local 47 in Los Angeles. He is also the co-owner of Chevalier's.